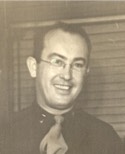 Name
Casimir Edward TANAJEWSKI

,

Father
Spouses
Marriage
1945, Dedham, Norfolk, Massachusetts, USA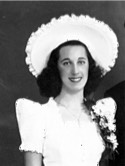 Web Notes notes for Casimir Edward TANAJEWSKI
U.S. Public Records Index, vol 2. shows Edward C Tanney born 8 Apr 1909 address: 10 Donna CT, Huntington, NY, 11743-2536. Residences 1935-93. It also shows him as living at 26 Harmon St, #2, Boston 02126-3205. However, I do not know when he lived at these addresses.

1931 - School yearbook called the Kanakadea, Alfred University located in Alfred NY, Sophomores: Edward Casimir Tanajewski of Brooklyn studying Science.

1940 - World War II Draft Registration Card, serial #2929 order #2240:
Edward Casimir Tanney, 49 Oakland St, East Dedham, Norfolk, MA, phone SOU-3774, age 31, born 8 Apr 1909 in Elizabeth, NJ, a US citizen, next of kin Alex Tanajewski, father of 458 47th St, Brooklyn, NY, self-employed as a dentist at 479 Broadway, So. Boston, Suffolk, MA, white, brown eyes, brown hair, light complexion, 6'2", 190 lbs, signed by Edward C Tanney on 16 Oct 1940.

1941 - Boston Globe, 1 Sep 1941, Mon, p 27:
State Charters 84 Corporations
Massachusetts charters of incorporation have been granted at the Secretary of State's office during the past fortnight to 84 various groups, as follows: . . . Coolidge Realty Corp, Brookline, capital 12 shares no par stock. Incorporators, . . . Edward. C Tanney . . . Boston . . .

1943 - US City Directories, Boston, MA, Edward C Tanney, office 479A w Broadway, South Boston, home same, dentist.

1945-He married Stasia Sobiesiak in Dedham. He used the name "Edward C. Tanajewski"
1941-45 Index to Marriages Mass.
Name Edward C Tanajewski, Town Dedham, Year 1945, Vol. 37, Page 374

7/2/1962 - Deed at Norfolk Co. Registry of Deeds: he and his wife Stasia M, were grantees (buyers) in Canton, Lot C, Blackman Rd, map book D3520 pg 142, sold by Daniel & Elizabeth Hourihan, recorded in book 5177, page 349.

WWII - he was in the military stationed in England in the dental corps. Dentist, 1st Lt , Medical Corp, U.S. Army. Went through officer training classes, went to England, then assigned to Fort Monmouth, NJ.

9 Mar 1947 - He and his wife returned from a trip to Bermuda. Passenger Manifest, Pan American Airways, Inc. originated at Bermuda, destined to New York, March 1, 1947:

Tanney, Edward of 49 Oakland St, Dedham, Mass., passport # illegible, 37, male, US citizen, born 4/8/09 in Elizabeth, NJ, married, a dentist, 5 bags
Tanney, Stasia, same address, passport # illegible, 32, female, US citizen, born 4/8/14 in Dedham, Mass. married, housewife

Lived at 26 Harmon St, Mattapan, MA 02126

1971 -Boston City Directory, p. 111
Tanney Edw C 187 E Cottage St (D) Apr 1
p.1066
Tanney, Edw C dentist 187 E Cottage St (D) Apr 1 r[esidence]Milton

Mass. Death Index, 1971-76
Tanny, Edward C, age 62, city Canton, year 1971, vol 037, page 287

His death certificate states:
Certificate of Death
From the records of deaths in the town of Canton
Commonwealth of Massachusetts
Date of death: May 10, 1971
Name: Edward C. Tanney
male, married, white, age 62 years, 1 month, 2 days
cause of death: Pres. acute myocardial infarct
residence: 7 Blackman Rd, Canton
occupation: dentist
social security #: 015-24-7642, veteran of WWII
place of death: 7 Blackman Rd, Canton, Mass.
place of birth: Elizabeth, NJ
wife: Stasia Sobiesiak
father: Alexander Tanajewski, born Poland
mother: Scholastyka Zylinski, born Poland
place of interment: Fairview Cemetery, Hyde Park, Mass.
Recorded by Maurice E. Ronayne, Jr,, Town Clerk of Canton, 12 May 1971

1971 - Boston Globe, 12 May 1971, Wed, p. 31 &
Same paper, 13 May 1971, Thu, p 50:
TANNEY - In Canton, suddenly, May 10, 1971, Edward C., D.M.D., beloved husband of Stasia (Sobiesiak) Tanney; son of Mrs. Alexander Tanajewski of N.Y. brother of Mrs. Jennie Koeper and Mrs. Blanche Steup both of Huntington, N.Y. Late residence Blackman rd. Funeral from the Joseph P. Roache Home for Funerals, 210 Sherman st., Canton, Friday, May 14 at 8 a.m Mass of the Resurrection in St. Gerard Majella Church at 9. Relatives and friends respectfully invited and my visit Wednesday eve 7-9, and Thursday 2-4 and 7-9 p.m.

1975 - His estate and his wife's Stasea (Stasia) were the grantors (sellers) of property in Canton, Desc: 3997 p 64, refers to book 3997 p 64 . Recorded 11/10/1975, Bk 5177 p 349.